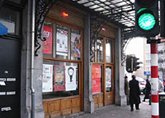 The open-air display Posterama is organised by the streets of Bruxelles
on occasion of the Biennial festival of the arts and culture Europalia. Between mid September and late October 2003 more than 800 Italian posters designed for several cultural events had been bill-boarded by the streets of the town.
Our studio participated with the posters created for the contemporary art shows america remixed and salon de refusés.